Cybersecurity and IT solutions to protect manufacturing companies from cyber threats.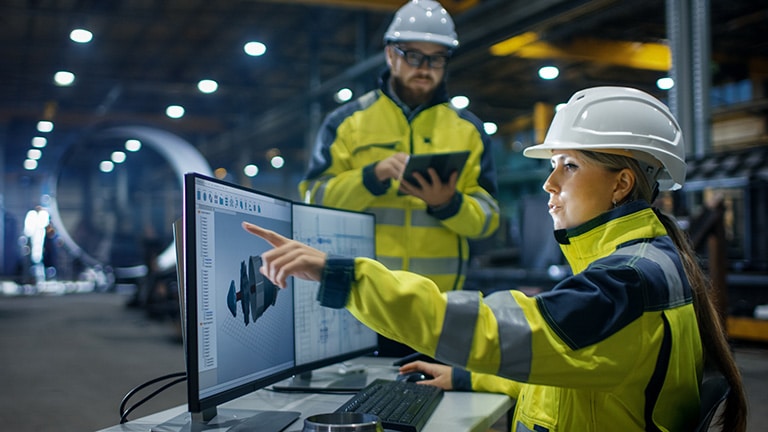 Cybercriminals target manufacturers
Manufacturing and technology are intertwined. With so many moving pieces needed to run product lines and move products down the supply chain, unsurprisingly, most manufacturers fall behind other industries like finance and healthcare when using smart technology and ensuring systems are resilient to cybercrime.
Why are manufacturers vulnerable?
It's expensive to implement new technologies and processes. Changes and upgrades unusually require shutting down production lines, and slowing production makes tight profit margins even thinner. Manufacturers often opt to delay implementing or upgrading technology, keeping legacy systems in place as long as possible, so production continues without interruption.
But this business decision may not be the best option in the long run. Upgraded systems and technology allow for better visibility of data on production, demand, supply chain, forecasting, etc., which produce better business decisions and less speculation. And outdated systems equal inadequate protection from cyberattacks.
At the height of the pandemic, some manufacturers were forced to adopt technology quicker than planned and implement them without critical security measures. And many more manufacturers are learning in the post-COVID economy, rapid adaptation and change are no longer luxuries but necessities to remain successful. They all must remember that it's crucial to build resilience from cyberattacks as they refine networks and processes.
The combination of some manufacturers continuing to use outdated systems and networks and others rapidly adding tech without suitable security measures creates a perfect opportunity for cybercriminals looking for vulnerabilities.
What are the top threats to manufacturing companies?
Ransomware attacks continue to grow as threat actors target more small and midsize enterprises like many manufacturers. Because smaller organizations have fewer resources and attract less law enforcement attention after an attack, they are ideal targets. Using outdated systems and avoiding updates makes manufacturers especially vulnerable. And because manufacturers will avoid downtime, they may be more willing to pay a ransom to keep things running.
Phishing continues to be a threat, often happening from the inside. When an employee unknowingly clicks a phishing email link, the hacker has a path to enter your network. Phishing attacks can also come through vendors and others in the supply chain who may have access or connections to your networks.
The interconnected network of manufacturing devices and the Internet, known as IoT (Internet of Things), increases the opportunity for an attack. These devices often support critical equipment or components in manufacturing and range from tiny sensors to track movement to sophisticated computers. IoT devices can require complicated updates and patches, and manufacturers are vulnerable when these devices are not updated.
And finally, threats exist through the connected system of vendors and partners who work together to make and move products through the supply chain. From physical devices incorporated into products to digital connections with the external supply chain, each connection into your organization's networks and processes creates a potential risk for exploitation. Partners must also be vetted for their security practices.
What measures should your company take to limit its risks?
Airiam specializes in cyber resiliency and offers manufacturers a full spectrum of managed enterprise-grade cybersecurity and IT support. Our experienced team works with your leadership to devise the best plan and ongoing support to prevent attacks and limit the blast radius and recovery time, should one occur. Here are a few ways we assist manufacturing companies.
Solutions for Manufacturers