THE STORY
This coming weekend, we will be virtualizing the datacenter for a popular trucking and logistics company. This virtualization project will reduce capital expenditures on hardware by consolidating workloads to fewer physical servers. This means that it will take much less investment in new servers to perform the same amount of work.
Virtualizing the datacenter with VMware vSphere will give us a widely supported, agile platform for future projects. Immediately, our client should see improvements in allocation flexibility as they re-prioritize their resources, and overall performance as some workloads finally receive the resources that they need.
We plan to add virtual SAN, operations management, fault tolerance, and high availability in future projects, which will allow this trucking and logistics company to see higher performance out of their storage, greater visibility and control over their infrastructure, and more resilience to site failure. Using VMware Site Recovery Manager or Veeam Backup & Replication, we plan to improve business continuity expectations from an RPO of 24 hours to an RPO of 15 minutes.
THE PROBLEMS:
Server sprawl: The company's small datacenter is full, cooling is difficult, there is a high-power demand, and we still need to be able to grow and expand.
Lack of flexibility: Some servers need to be upgraded, but they are physical servers in a 24×7 production environment. To add storage or memory or CPU to a server, it has to be shut down. This means downtime for our client and their customers.
Excessive resources used: Servers that don't require a lot of resources to run, such as the fuel pump management software, have a full physical server. This server would run fine on 4GB of RAM and 1 CPU core in a virtualized environment, without hogging up a $10,000 server.
Server end-of-life: The company has several physical servers which are old or are nearing end of support and need to be replaced. Cost to replace these servers is a significant investment.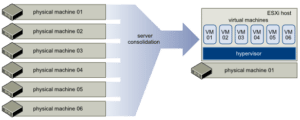 THE SOLUTION: VIRTUALIZATION
Using VMware vSphere, we can consolidate this trucking company's workload into physical servers in around an 8:1 ratio. This means that hardware investment goes down to approximately 12.5% of what it would cost to do a server hardware refresh. Virtualized servers can also be adjusted on the fly, so we can add the appropriate amount of storage, memory, and CPU to the virtual machines when we need to. This gives us a lot of flexibility and keeps us from overprovisioning and wasting hardware.